Calculate how much you can save is you use digital signing
Wondering what you can save in time and money by digitising your signing process? Calculate with our savings calculator.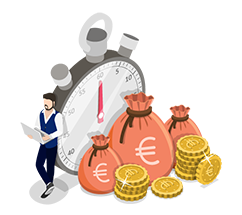 Wondering what you can save with digital signatures?
Using our savings calculator, you can quickly see how much time and money you can save by starting with digital signing.

We take all aspects of the signing process into account when calculating your time and money savings. For example, it only takes you 6 minutes to digitally sign documents with Stiply. Ink and postage costs are also taken into account when calculating the money savings.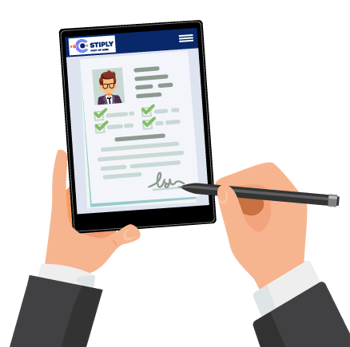 Secure and trusted digital signing
Stiply handles personal data and the security of the signing platform confidentially. We apply the Privacy-by-design and by-default principle. This means that we want to hold data for as short a time as possible. Storing documents in our application is not possible. Also, in most cases, documents are deleted after 3 days, after a document has been signed.

Also, using an encrypted cloud platform makes your data secure. That makes it so that only users can access signature requests and digital signatures. This well-secured environment is managed by an ISO 9001, ISO 27001 and ISO 27017 certified cloud team.
Fully set up as an extension of your organisation
With Stiply, you can create a 360-degree customer experience. Add your own logo and colours to a signing request. Send e-mails from your own domain and let employees and signers work within your own company portal.

Want your own success screen? That too is possible. And to complete the customer journey, it is even possible to show a personalised success page. In it, you can display elements from the journey for a complete customer experience.

A fully personalised environment and experience improves signing success!